Decorating Ideas for Easy Outdoor Entertaining
Outdoor Decorating & Entertaining 101:
Little did you know that you've got the best location for the perfect summer gathering — your very own backyard. (Or maybe it's your patio or the deck) Wherever you start, turning your outside space into the party destination can make for memorable moments. From charming backyard barbecues to family reunions to an impromptu summer escape, the outdoors is the way to go. Get ready with our tips for outdoor décor, food & entertainment.
Decorate Entertain Backyard Games Outdoor Movie
Outdoor Entertaining Decorating Ideas
Take your entertaining outside and set a picture-perfect outdoor retreat that will entice your guests to relax and enjoy the great outdoors for awhile! Just as you decorate your living spaces inside, now you can bring your decorating sensibilities to your backyard entertaining as well. Create a stylish space for outdoor entertaining with these patio decorating ideas.

Meet and Greet
Make guests feel welcome before they even enter your home. Hanging baskets and planters with trailing plants adorn your porch and greet guests as they arrive. Add charm to your entrance with a trellis decked out in greenery or see how a wreath adds eye-catching appeal on the front door. Don't forget about your back patio doors! They deserve some attention too. By decorating the back entrance into your home as well, you add summer decor to the outdoor area where they open.

Have a Seat
Be creative with your outdoor seating area by choosing patio furniture with a unique style and warmth. Toss a few decorative accent pillows on the loveseat and chairs for the finishing touch. Create seating areas with your outdoor patio furniture that makes it easy for guests to dine and socialize. If you can't sit everyone at one big table, be sure to make several areas where guests can sit their plates and drinks, and still gather together. Benches are a nice way for guests to make room for more and can be pulled apart to make bigger seating areas as the gathering grows larger.
The trend right now in outdoor patio furniture is all about comfort. Plush, lounge-worthy seating sets make for an inviting place to enjoy a summer evening with friends. When the party calls for versatility in stylish seating options with a tropical flair, try adding a collection of vibrant colored pouf chairs to your outdoor decor. You can move your seating around to suit the size of your gathering and make sure everyone has a place to sit.
Outdoor décor is pulling double duty when it adds style while serving up practicality, and outdoor throw pillows earn extra points in this department. Choose a bunch in a beautiful array of colors and patterns and you instantly have a decorated outdoor space that invites your guests to get cozy.
Light the Way With Outdoor Decorative Lights
When entertaining goes past sundown, be sure to have the perfect outdoor lighting ready to go. Cluster patio torches, strategically place lanterns on tables to provide outdoor lights where you really need it, then accent with candles. Trim the yard with solar accent lights to bring your landscape to life and expand the party space. String lights along your covered deck, or hang jars of solar lights from trees for instant ambiance and illumination. Strategically placed lanterns or hurricane lamps on tables also add a nice touch. Finally, music sets the mood and adds just the right finishing touch.

Patio Umbrella
A patio umbrella provides on-the-spot shade while dining al fresco. That pesky sun can stay on the move throughout your gathering. A patio umbrella in a lovely hue adds both style and practicality to your outdoor entertaining event, providing much-needed coverage from the sun and elements. Choose one in a vibrant hue for an instant pop of color during your outdoor soirees. A curtained gazebo in the backyard or a hanging curtain on a porch can help manage the setting sun from getting in guests' eyes or keep out too much of a breeze.
Treat your Feet
An outdoor rug is just one way to bring the comforts of your inside living space to your patio! Choose one to complement your color palette or with a nature-inspired decorating design. It invites guests to slip off those sandals and enjoy a little pampering while you take in the great outdoors. Best of all, you can hose it down when it gets dirty. Check out these outdoor rug cleaning tips!
Outdoor Wall Decorations
You may be in the great outdoors, but that doesn't mean there isn't a wall or two in sight that could benefit from some mood-setting décor. Hang a beachy canvas print on a patio wall or install a lovely wall fountain in a courtyard or along a pathway to your garden. The sound of water trickling will add a tranquil element to your backyard ambiance.
Be Whimsical
Let your outdoor style be an extension of your indoor decorating style. Add your own personal touch to the outdoor setting by incorporating your favorite color palette, artwork that is uniquely yours and accessories that match your mood. Decorate with charming garden figurines, colorful wind chimes or whimsical garden statues, just to mention a few!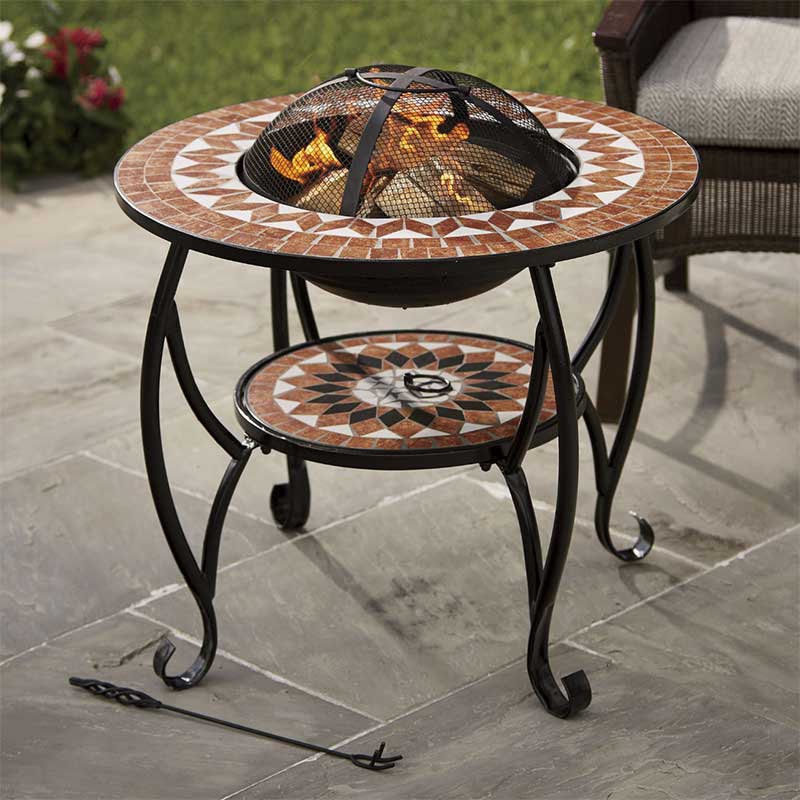 Patio Fireplace Ideas to Catch the Glow
Whether it's the flicker of a candle from a hanging wrought-iron lantern, lit glass orbs or the warmth of a backyard fire pit, adding a pleasant glow to your evening entertaining will surely create a welcoming atmosphere.
The addition of a cast iron chimnea adds a charming element to your backyard festivities. Everyone loves to gather around a chimnea for the ambiance and warmth and provides a focal point for guests. Extend the ambiance throughout with festive candles, hurricane lanterns and lit glass orbs.
If you don't have room for a fireplace, make your table as the focal point. Add a tabletop firebowl to set the mood of a luxury retreat.

Backyard Entertaining
Entertaining takes on a laid-back, casual appeal when you head outside to the patio or backyard to enjoy leisurely long days. From the delicious recipes to the inviting setting to your own personal decorating style — whether beach-themed to modern farmhouse. Use these outdoor entertaining ideas as an inspirational guide to taking advantage of this spectacular time of year.

Set the Table
An outdoor patio set serves as the focus of your entertaining area. Whether it's an evening meal with just family or you've invited guests over, this will become the first stop everyone makes, so be sure to select a patio set with plenty of chairs. Even better – take advantage of matching accessories like a wicker table cooler or side table.
Serve It Up Right
Forget the paper plates when you can add style to your outdoor dining with Mediterranean-themed melamine dinnerware. It's stylish, colorful, eco-friendly and you don't have to worry about breaking china with this easy-care solution. Patio dinnerware made just for outdoor entertaining is usually resistant to breaking and in a host of colorful designs to complement your outdoor party theme.

Easy Recipes for a Great Cookout
Head to the grill with marinated meats and veggies, or prep a casserole that can be easy to pop in the oven and have ready when guests arrive. Either way, you will be able to enjoy time on the patio with friends instead of being a slave to the kitchen. If you are looking to venture into new culinary territory, try grilling seafood, meat, vegetables, and even fruit.
The perfect side dish for outdoor entertaining is the salad, from cool and creamy potato salads to refreshing combinations of veggies or fruits to classics like Waldorf salad. Best of all, most salads can be made ahead of time then tossed with dressing at the last minute, or some will even benefit from a night of chilling and marinating in the fridge.
Don't forget refreshments! Serve them up like a pro when you fill beverage servers with favorites, like lemonade and tea, and let guests serve themselves. Keep drinks at the ready with rolling coolers. Provide a variety of refreshing drinks for your guests. Chill wine and bottled beverages in a party tub or ice-filled bucket. It makes it easy for your guests to refresh their beverage and keeps the hostess from refill duty. Try hosting a lemonade bar with everything from fruit, fresh herbs and flavored syrups so guests can customize their own drinks.
Be sure to end your outdoor gathering on a sweet note with a light dessert that takes advantage of in-season fruits, like peaches, berries and melons. Light and simple recipes usually yield the most rave reviews at cookouts and backyard barbecues this time of the year.

Outdoor Games Serve Up A Little Competition And Add Party Fun
No matter what the ages of your guests, everyone always seems ready for a fun outdoor game while they're enjoying the lazy days of summer. Everyone will want to get in on the fun of your backyard party games. Not only are these a fantastic diversion that gets everyone enjoying the outdoors, but it's also a great way for guests of all ages, young or old, to enjoy spending time together.
If your yard is big enough, preset a volleyball, badminton or pickleball net in advance of the party. Set up a corn hole game, or layout oversized versions of checkers on the lawn underneath the canopy of trees for a more low-key option. Let's learn more!
Cornhole
Combine luck and skill with a classic corn hole toss game. This game has experienced a surge in popularity and may be more popular today than ever. You can get official by keeping them 27 feet apart or move them closer together for the younger players in your group. Be sure to place this game out of the way of the flow of the party, so guests aren't tempted to walk in between the two corn hole boards.
Take Aim with Lawn Darts
Take an aerodynamic twist on the classic game of horseshoes with an old fashioned game of yard darts. Today's lawn darts are safe and a fun way to test your aiming skill. Kids love this one because they can show off their aim just as easily as the adults can. Be sure to keep this game aimed away from the action of the rest of your outdoor entertaining.
Jumbo Checkers
Practically everyone knows how to play checkers, so a jumbo board made to be played on the lawn will be an inviting competition of outdoor checkers for kids and adults alike. Make an official tournament out of it and announce a grand champion at the close of your festivities. Be sure to have a crown handy!
Pickleball
Pickleball has taken off in popularity particularly with older generations. If you have a court surface near your outdoor gathering, then invest in a pickleball set and get ready for the fun! This fun court-style game falls somewhere between tennis, badminton and ping pong, and is especially fun for competitive couples.
Croquet
When it comes to the game of croquet, we often think of ladies dressed in white dresses and gentlemen in coat and ties. It seems so civilized! But today's version of croquet is far more casual and friendly. However, one thing still remains – the opportunity to whack your opponent's ball into your neighbor's yard. Pull this yard game out when you have groups of couples that like to hang out together, or when you want to bring lots of individuals together.

Make It a Backyard Movie Night
There is no better way to finish off the night of entertaining than an outdoor movie! Drive-in movies may be rare to find these days, but you can still enjoy a movie under the stars in your very own backyard. Here are a few pointers to turn your summer night gatherings into big blockbusters for friends and family!
Set Up for Showtime
Start with a movie screen, which can be as easy as a big white sheet or drop cloth. String it between trees or hang from the side of a garage. Inflatable options are also available for rental in some areas. Mount a projector or place it on a tall table. Choose several family-friendly titles, then wait for dusk and get ready for showtime!
VIP Seating
Arrange plenty of seating options for your guests. Some will appreciate comfy sling chairs, while others will like spreading out on outdoor blankets and making use of a pile of pillows or garden pouf chairs. The more eclectic the options, the better.
Light the Night
Even though a dark evening is imperative to a successful movie night, it's important to provide lighting for your guests. Add solar lighting along pathways and hang LED lanterns near the refreshments. Have a few lanterns and flashlights on hand for guests to use as they negotiate the viewing area.
Serve Up Concessions
A movie experience would not be the same without a concession area. Set up a popcorn popper so you can make freshly popped popcorn during the show. Your guests will love the buttery aroma. Set up boxes of concession candy and use a homemade ice cream maker so you can dish up homemade sundaes during the show.
Done With Your Backyard and Now on to…
Need help with room decorating ideas for other rooms in your house? Check out our Home Decorating content for inspiration and decorating expertise for every room.
Published on Jun 06 2019
Last Updated on Sep 02 2021
Categories: Entertaining