Back-to-School Front Door Decorating
LET'S DECORATE A BACK-TO-SCHOOL DOOR!
School's back! Don't let your Front Door fail-bring your A game! Can you believe summer's over? Where does the time go? Show students and teachers some love as they hit the books again. Here's a quick and affordable Front Door update celebrating everything reading, writing, and arithmetic.
MAKE A RULER GROWTH CHART
Supplies:
1″ x 8″ x 6′ piece of plywood
Vinyl Growth Chart decal kit (available online)
Stain or paint of your choice.
Note: Darker stains and colors will make the numbers and lines hard to read.
Paint brush, drop cloth, pencil
Step-by-Step:
Stain or paint a piece of plywood on both sides. This is the fun part. You get to choose the color stain or paint. Go crazy, but don't go too dark or the numbers and lines won't show up!
An easy-to-use decal kit can be ordered online. It saves a lot of time and gives you a polished, professional-looking project.
Mark out your lines with a pencil before applying the decals.
Apply a coat of weather sealer if time allows. This piece also makes great inside décor in an entryway or children's room.
The decals start 8 inches off the floor for hanging. If you're just going to prop it on the ground, use some books to add height and make the measuring accurate. Books also add a little extra schoolroom charm.
DIY A-B-C DOOR HANGER
Supplies:
Oversized wood letters and numbers (available at most craft stores)
Craft paint (preferably outdoor safe)
Sponge brush
Burlap ribbon
Small chalkboard
Command hook
Step-by-Step:
Paint oversized wood letters and numbers to match your color scheme. Traditional primary colors is more "back-to-school" but you can put your own spin on it! Get wild with glitter and embellishments. Use what you have.
Glue letters to a wide burlap ribbon. Attach the ribbon to a small chalkboard slate. Use a command hook to hang.
Scatter numbers around your porch for a pop of color.
HOW TO DECORATE A CHALKBOARD STAND AND EASELS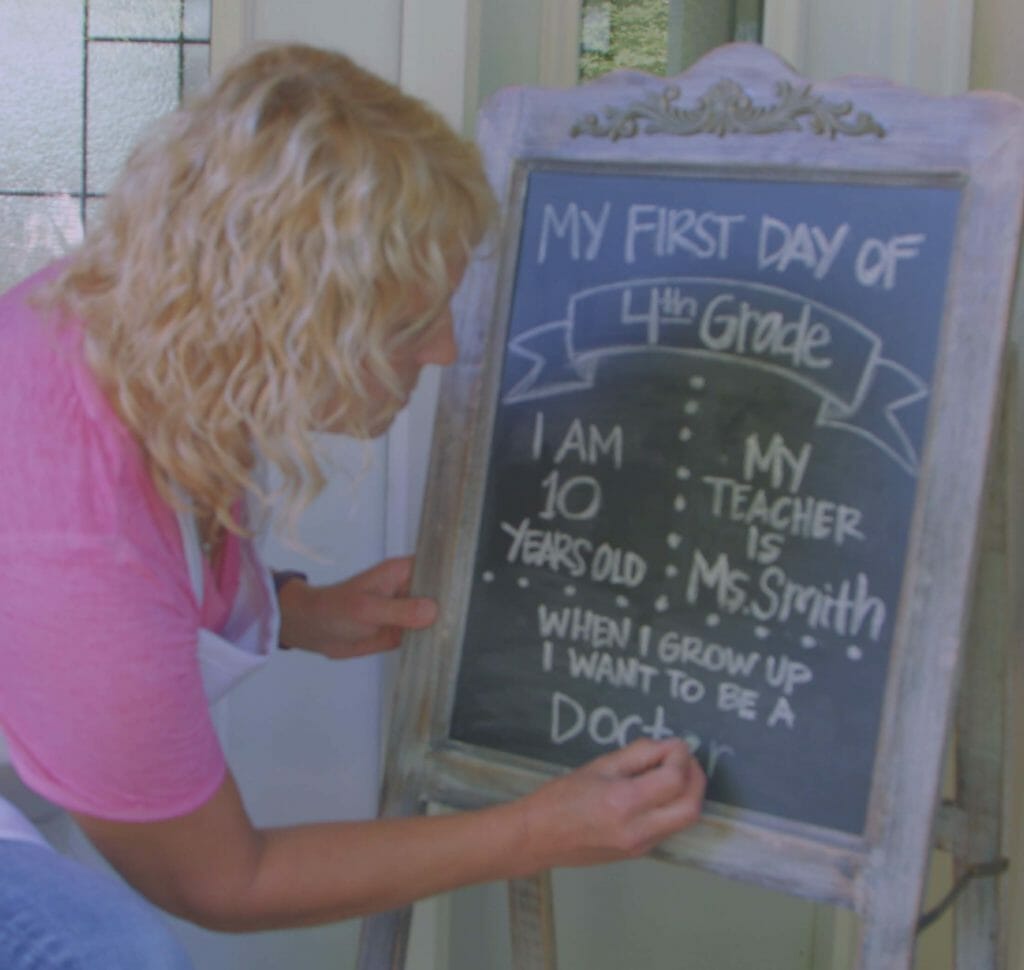 Chalkboard easel: If you don't want to buy a chalkboard easel, cover a canvas or piece of plywood with chalkboard paint and use it on an art easel. But if you love front door decorating, investing in a decorative chalkboard easel is a good plan. You'll be able to use it season after season.
Plant pots: Use pots under or around the easel. Pick styles/colors to match your overall design.
Old school supplies: It's time to raid the junk drawers and last year's school supply bins! Fill pots with crayons, pencils, erasers and rulers. You may even design an "arrangement" using several different things. Be creative and again, use what you have!
FRONT PORCH DECORATING TIPS
Don't forget to hang a wreath! An apple wreath is great for school and you can repurpose it into fall. Add a bushel basket with apples to tie the whole look together.
Whenever possible, incorporate a fun sign into your design. People love them and they're conversation starters.
You can find very affordable decorative mats online or in stores. It's a finishing touch that makes a big difference.
Use a backpack for a little extra school house fun. Remember, you don't have to go out and spend a lot of money. Shop around in your own home.
A porch is the perfect place to use old furniture like chairs, tables, dressers or even sideboards. So before you toss it, think about furnishing your porch! The more weathered and worn, the better.
AN EASY FRONT DOOR DECORATING…DONE!
Just a few, inexpensive updates can transform your front door for the season. So step outside and try some Front Door Decorating this weekend!
Do you want to learn more about Seasonal Front Door Decorating?