Country Chicken Kitchen Décor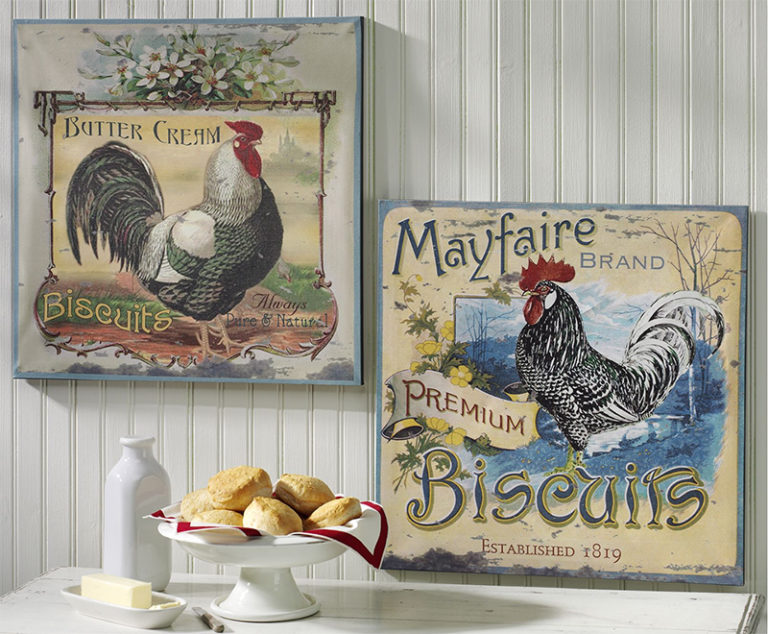 Rooster Décor Worth Crowing About
No other bird seems more at home in the kitchen than the perennial rooster. You'll find his inspiration on everything from wall décor to kitchen canisters to serving ware and teacups. His presence adds a welcoming air to the heart of your home with just a few interesting pieces. Add a few hens to his flock and suddenly your country kitchen feels complete.
French Country Rooster Decor
Rooster décor can look beautiful in many styles of kitchens, but they look especially at home in French country-style kitchens. Top a rustic sideboard with a crowing rooster figurine front and center. Stack a set of rooster toile dinnerware nearby to complete the international look.
Ready to Roost
Look to the tops of your kitchen cabinets as a perfect place to add some rooster décor and country charm. Let a pair of roosters roost next to glass canisters, plaques featuring words of wisdom, and a decorative planter filled with greenery.
Shabby Chic Meet Hen House
If you're going for a shabby chic look, keep your kitchen in creamy neutral tones and filled with "rediscovered treasures" with some hand-painted wall art. Hang a pair of farmhouse prints and accent your countertop with a cookbook holder that reminds you of the rooster's chicken coop. Rustic shelving with chicken wire accents and distressed edges also looks right at home with this warm and welcoming style.
Rooster Dinnerware
Now Serving: Eggs
Keeping chickens has become a popular hobby whether you live in the country or the suburbs. If you're gathering your share of eggs, be sure to feature them in a special recipe and then serve them up on a charming rooster dinnerware set.
Rooster Décor
Accessorize with Poultry Décor
That whimsical rooster doesn't always have to be the star of the kitchen. Instead, show off your rooster décor in supporting roles. Keep a pair of jumbo mugs featuring your favorite poultry on your countertop ready for an impromptu coffee break. Or add salt and pepper shakers or a butter dish to your everyday dishes.
Looking for more Country Kitchen Ideas?